KIDS' SING-ALONG
PACKAGE
The kids get to sing along to all their favorite songs!
PROFESSIONAL HOST

specializes in working with kids. They can:
– coordinate games like limbo & freeze dance
– teach the kids popular dances
– set up the equipment, cue up the music, & keep the party flowing

SOUND SYSTEM

featuring multiple microphones & a powerful speaker system makes the kids sound great (or at least "loud")
MUSIC LIBRARY

full of popular songs the kids know & love ranging from traditional children's favorites to popular contemporary songs.
*Note: We have found that most kids have trouble "reading" the lyrics to songs, so this package does not include the monitor.
ECONOMY PACKAGE
Available for groups under 25 kids featurs a large, portable boom box instead of the deluxe sound system.
DELUXE FAMILY
KARAOKE PACKAGE
Features everything you need to have a great Karaoke Party!
EXPERT HOST/ MC


will keep the party flowing! They can:
– encourage your guests to step into the spotlight
– lead a variety of party games like limbo & hula hoop
– teach popular dances
– set up the monitor & equipment, cue up the music, & accommodate any requests

FUN COSTUMES & PROPS




like hats, boas and instruments transform the songs into fun shows for everyone to enjoy.

FULL MUSIC SELECTION

includes thousands of popular songs formatted for karaoke and multiple songbooks to catalogue the numerous options for your guests.

PROFESSIONAL KARAOKE EQUIPMENT


includes:
– monitor to display the lyrics
– multiple high-quality microphones
– powerful speaker system to make your guests sound great!
KARAOKE
offers some
GREAT ADVANTAGES!
Your guests take turns being the
STAR OF THE PARTY!

EVERYONE CAN PARTICIPATE, either in small groups on stage or when the entire room sings along!
Our PROFESSIONAL HOSTS can lead a variety of games & activities to enhance the entire party!
You can finally LEARN THE LYRICS TO YOUR FAVORITE SONGS!

We can combine any of these options to meet the unique needs of your event!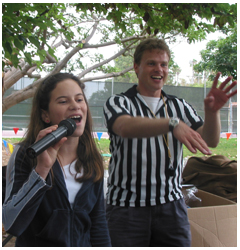 Karaoke equipment without a host is available for rent at
lifeofthepartyonline.com
(not affiliated with Aunt Roxie's Life of the Party).